Creating Happiness through Great Taste
Our corporate principle is based on our company's sincere hope to contribute
to the "Happiness" of employees, farmers and customers and also to add value
in a form of "Deliciousness" for our regular customers and consumers.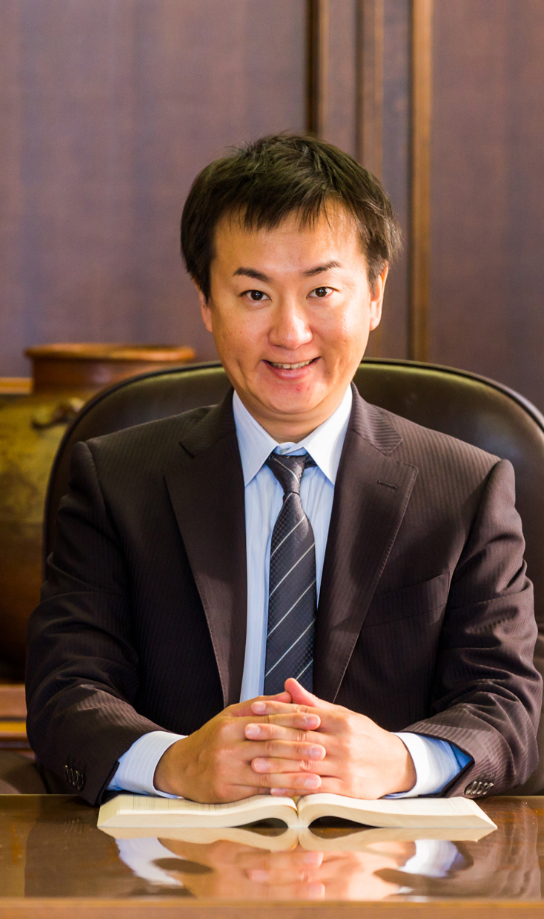 CEO Message
Heijiro Asano CEO
Since our initial founding in 1949, Asano Co.Ltd.Has spent over half a century of consistently working on our production, processing and sales of Japanese-grown ginger.
Over the years, we have made great efforts to improve quality and provide consistent supply while applying many years of experience and technological accumulation through various trial and error.
It is our greatest honor and source of happiness to be a part of the process for products that bring sense of security and satisfaction to users within and outside of Japan, and doing this while maintaining the highest standard of quality of Japan and especially Kochi-made produce.
The business that began by shipping large ginger to the fruits and vegetable market has expanded into packaged ginger, condiment ginger, processed ginger and frozen products, and with this evolution, we feel that we have made small contribution to the industry by paving the way in all-year-round availability with our cold storage method.
As part of agriculture of environmental conservation, special agricultural produce-ginger has matured and have reached 2,000 tons. In the past several years, under the drastic change of the environment surrounding agricultural products, we have been committed to working even harder to earn the trust and exceed expectations of our loyal customers. We pledge to produce products that our customers can be confident to use. We sincerely seek your continued guidance and look forward to doing business with you in the future.
About Ginger Cultivation

The spirit of our founder and passion of our growers produce our first-class ginger.
Ginger is primarily a perennial herb that is native to tropical Asia, it does not grow well in low temperature but favors hot and humid climate. The Southern land of Kochi, having the most sunlight and rainfall in Japan, in addition to abundant clean water and fertile soil that drains water well, provides the best climate for growing ginger.
This environment is exactly why Kochi boasts the largest cultivation area and production volume of ginger in Japan.
Asano has maintained top national share in volume since its establishment in 1950, and in the fields located at the basin of Shimanto, Monobe and Nioyodo rivers, which is one of the prefecture's best ginger producing area, regional contract farmers, with the spirit and cultivation skills inherited from our founder, are growing the highest quality ginger that is second to none.
About Producing

The place Asano Ginger is grown is also home to the pristine clear streams that are distinguished as the Three Greatest Clear Streams of Kochi and consistently ranks at the top of the National Clear Stream Standard Investigation of Japan.
Kochi Prefecture is the largest producer of ginger in Japan, accounting for over 40% of total shipment volume in the country. Among the many Kochi brands, "Asano" grows its ginger at the basin of Shimanto, Monobe and Niyodo rivers, which are First-class rivers and standard bearers in Kochi, resulting in high-quality ginger with clean pungency and outstanding aroma as well as flavor.
In addition, the harvested ginger is processed and stored at adjacent factories without losing its freshness and quality, so it receives the highest praises in Japan's market as an emblematic first-class ginger of the Ginger Kingdom that is Tosa Province (former name of Kochi Prefecture but still used today by the locals with pride).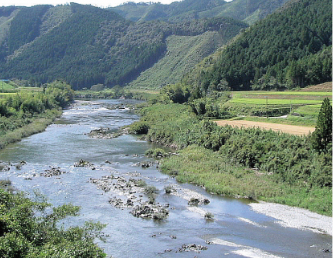 Shimanto River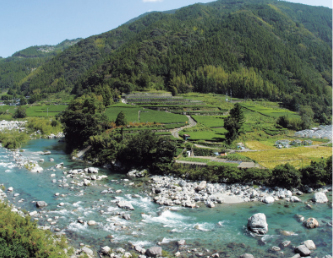 Nioyodo River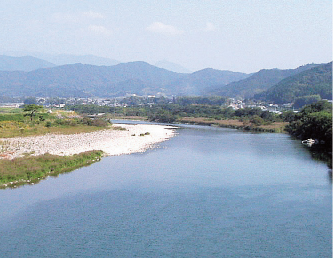 Monobe River
About Cultivation Environment

Trust for Great Taste
Confidence in Quality and Safety
Trust from our customers is the pride of our production team.
Asano has two production sites. The main factory is located at the Monobe river basin and the other is located on the cape of Shimanto river.
Both factories are located close to our fields where our main product, "Ginger", is produced, and we established a thorough production system that in addition to providing freshly harvested high-quality ginger at lower cost and faster, we also pay closest attention to line operation, uncompromising hygiene and quality management.
Every one of our 242 employees promote prioritizing the safety of products by standing in our customers' shoes when engaging in production.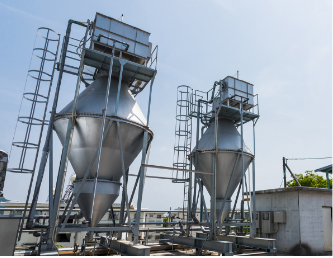 Safe products for people
start from an environment
friendly factory.
At our factories with the most advanced equipment in the industry, we take on bold challenges and give daily effort with a goal of achieving the best ginger processing lines in Japan and the world.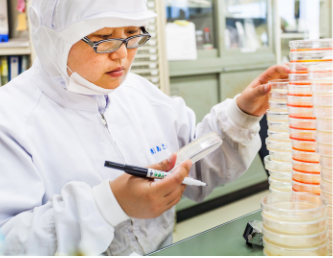 Quality management system
with a goal of zero complaints.
Harvested ginger is stored depending on its category, conventional or special cultivation.
We have integrated an uncompromising traceability system, so we can trace who at which field and how it was harvested. Regarding the process between production to delivery, we have developed a mechanism for quality assurance based on an international standard with strict quality management system. In order to assure safe and reliable products to our customers, we link consistency and high level of safety in our product production, covering farming, storage, processing and delivery.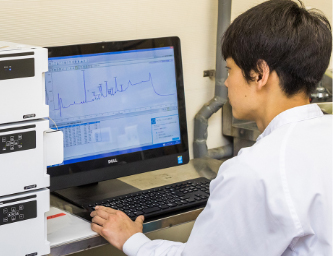 Throughout R&D, production,
inspection and sales process,
Asano brings together all of
its resources for a thorough
integrated system.
We engage in a daily R&D effort with ginger at the center of focus. Especially regarding research on functionality of ginger, we engage with local universities, regional governments in an industry-academia-government collaboration. Based on the research results, each person involved in the R&D are free to incorporate their ideas and the spirit of challenge into their work by being able to say "I want to create a product like this", "it would be great if this type of product existed", etc., and having a flexible system to accept these attitudes as our company policy supports Asano's unique product development process. Moreover, we conduct sampling inspection (microorganism test) at our research/inspection facility on products that are shipped out on a daily basis. As for the residual pesticide test, we periodically request specialized organizations to implement the testing.